Find the Perfect Wedding Car to Match Your Unique Style And Vision
Find the Perfect Wedding Car
to Match Your Unique Style
and Vision


We have six Classic and Vintage-looking Wedding Cars for Hire in our fleet : a Daimler Empress II, two Jaguars Mark II and three Rolls-Royce style Regents, which are strictly speaking not classic, but they look like one.
They are very popular among brides since they look like a classic car, but offer a more comfortable ride. Although our classic wedding cars are kept in pristine condition, you can't be absolutely sure that they won't break down on the day. If you are traveling a short distance, it should not be a problem, but for a wedding that is further away, we always recommend our modern cards or our vintage look-alike 1930's Rolls-Royce style Regents.

If you prefer sleek and modern design, we have eight modern, luxury cars to choose from. A more modern vehicle such as our top-of-the-range BMWs, Jaguars XF, or an iconic Mercedes CLS will offer you more comfort and space than a classic car, as the vehicles are built with the best modern technologies, that half a century ago were not yet available.
So if you are focused on a smooth, comfortable ride, a modern wedding car is the way to go. Especially, if you are traveling a long distance to your wedding.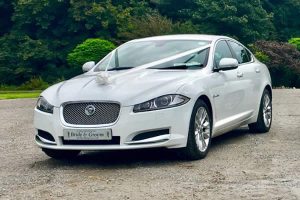 The Jaguar XF is the perfect contemporary luxury wedding car. It is sleek, powerful and a little bit different. Arrive in a Jaguar XF and you will certainly get noticed.
We have 2 identical Jaguars (both white with white leather interiors).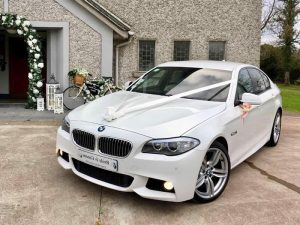 Fast, capable, comfortable, and fun. The BMW F10 offers very generous head and leg space, making it suitable for tall people and big wedding dresses. 
Wide door openings, comfort access, and soft closing doors. White colour with luxurious white leather interiors.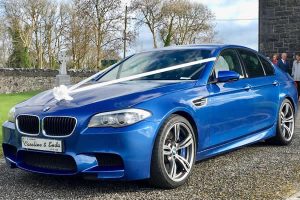 Cars do not come much more legendary than BMW. It is a perfect car for the Groomsmen or a sporty couple who value power and speed. 
BMW M5 is a perfect car to travel a longer distance as there is plenty of room for legs and wedding dresses.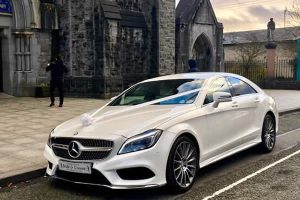 Mercedes-Benz CLS is sleek, stylish and very comfortable. It has a lavish interior, secure handling, and plenty of advanced safety features. The Mercedes CLS low height and curvaceous profile give it a classic feel, almost reminiscent of the 1950s. It is a definite head-turner. We have 2 identical white cars. Both with white leather interior.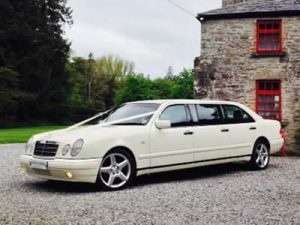 Mercedes E-class Limousine
The Mercedes-Benz E-Class Limousine is a perfect car for the bridesmaids and the bridal party as it is able to take up to 7 passengers.
The car is ivory in colour, it has air conditioning and handy champagne glass holders.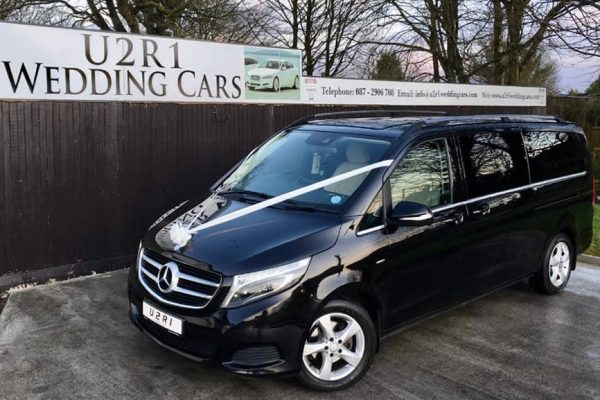 Our top-spec  Mercedes V220 Avantgarde Executive is a stylish, comfortable, luxury wedding car with the room for six passengers plus the driver.
It is an ideal car for the bridal party, the groomsmen or the wedding guests.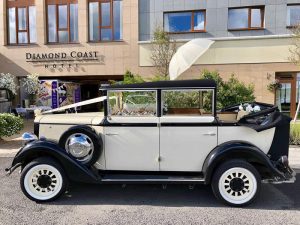 The Regent Landaulette is a vintage style motor car, reminiscent of the 1920s Rolls Royce. The interior of the car has a luxury feel of a bygone era, with leather and walnut interior and chrome finishes.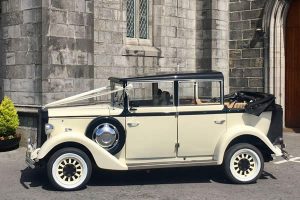 Same appearance as car A, just slightly different paint and trim. The soft-top hood of  all the Regents can be lowered or raised, depending on the weather condition. Stylish and reliable, very popular with our brides.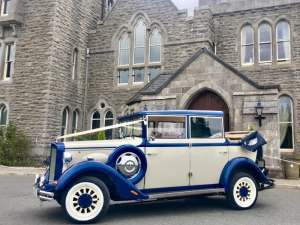 Same appearance and performance as the two other Regents Landaulette – Cars A and B. The colour is ivory and blue with blue fenders and cream leather interior.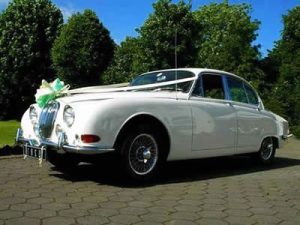 "Grace, Space, Pace… A special kind of motoring which no other car in the world can offer…" – they are just some of the reasons why it is a popular choice for a wedding car.
We have 2 identical-looking Jaguars (one is Jaguar S, but only classic Jaguar enthusiasts tell the difference). Both are ivory colour with a rich burgundy leather interior, elegant walnut dashboard and a powerful roar of its engine guaranteed to stop the traffic.
The Daimler Empress II can be described with just one word – impressive. The car commands attention and turns heads wherever it goes. Considered by many to be one of the most elegant cars ever made, it was chosen by Princess Diana on her wedding day.
The interior is just as bespoke as the wonderful two-tone black and white exterior of this car.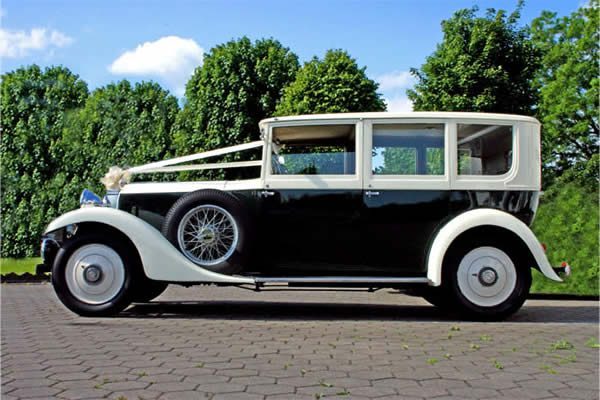 Unfortunately our beloved  1923 Rolls Royce is now sadly retired, and no longer available.
Check out our similar looking modern classic Regents
There are many reasons to do business with us…
A large selection of classic and modern wedding cars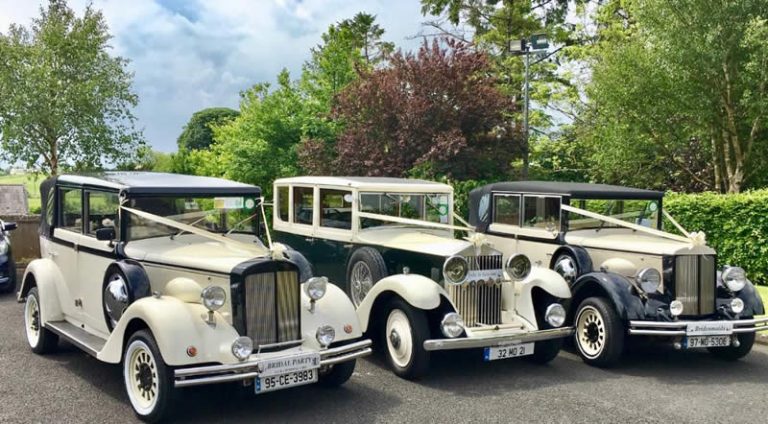 Highly experienced chauffeurs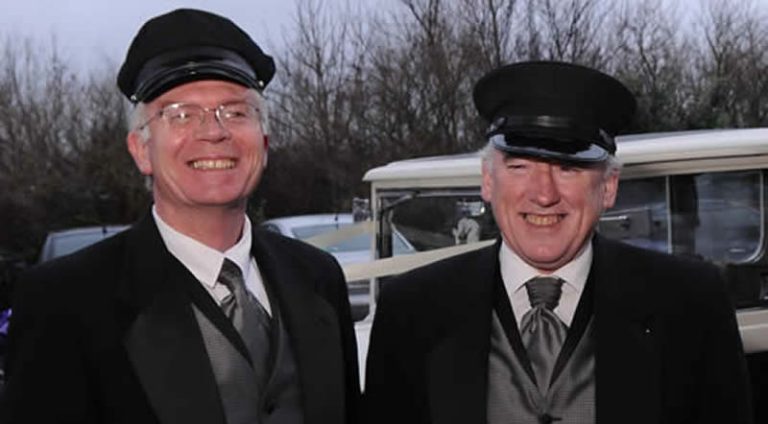 Multi-Award Winning Personalised Service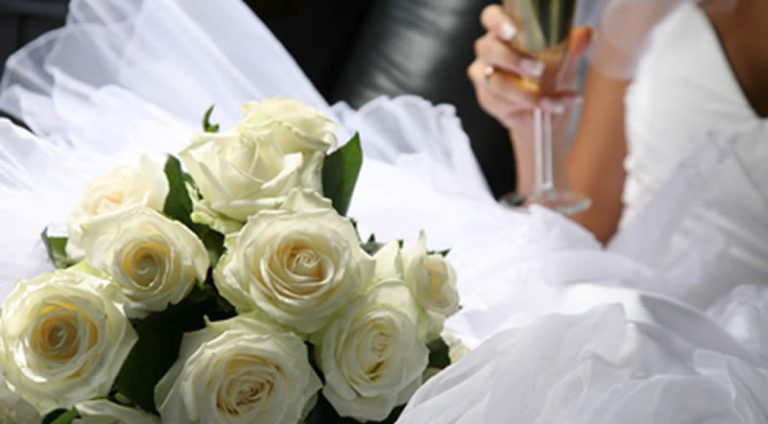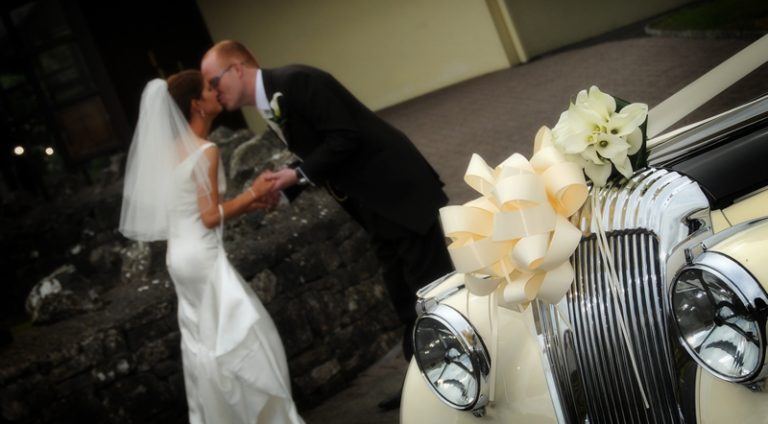 What our customers are saying about us...
Just want to say a huge thanks to u2r1 wedding cars, we got married on 15th March and had 2 white Mercedes cars. We can't recommend them enough, they provide... read more a fantastic service and were so nice to deal with from the first day we met Karl. Our drivers on the day Matt and Quintin were great, they arrived early and were so easy going and good fun too. They were so helpful all day - at the church, during pictures and also with my dad who had a stroke, they couldn't do enough for us. It was so lovely to have such friendly and genuine drivers on the day and the cars were amazing, immaculately clean and so comfortable too. Would highly recommend this company to anyone. Thanks again, Marie & Aidan

Marie Collevy


30 April 2019

Would highly recommend U2R1 Wedding Cars, Ashling and Karl were fantastic to deal with. Karl was amazing on the day he's such a gent and went above and beyond to... read more look after us on the day he was even at the bottom of the aisle fixing my veil. We had great craic with him.

Una Tynan


8 August 2021

Can't say enough good things about U2R1 and Karl! Communication was top notch from the moment we booked, fantastic selection of cars, competitive rates and wonderful professionalism from Karl coupled... read more with his mighty personality. 10/10! Would recommend to anyone!

Annie Waldron


4 October 2020

U2R1 are absolutely amazing ✨ Ashling & Karl are fantastic in every way from the booking, to the quality of service on the day. Our drive from the church to... read more the hotel was one of the favourite parts of the day. Champagne and lots of laughs! My bouquet experienced a first class journey in the front seat with Karl, an umbrella was produced for the shower of rain we got - I simply did not have to worry about a thing! The bridesmaids were treated like royalty in the accompanying jaguar. Thank you Karl for taking them first shots of me entering the church and going up the aisle, and for making our day so special. 5 star is simply only a figure; your standard of service and experience massively exceeds that. ✨

Kelly Louise Pryce


19 May 2022

One of my favourite parts of our wedding day was the journey to the church with my dad and then our journey as husband and wife from Ballaghaderreen all the... read more way to Ballina! Thank you for the most memorable experience❤️

Ciara Naughton


15 September 2022

We booked the vintage regent and limo for ourselves and bridal party for our wedding last month. I cannot thank Karl enough for his help on the day. Karl was... read more great craic and helped me with my dress in and out of the car, he even carried the train of the dress into the church for me. He had mirrors in the cars for last minute touch ups for photos amongst other things. He could not have done enough for us and for that we are so grateful. I highly recommend U2R1 wedding cars!

Olivia Connolly


8 October 2022

We booked U2R1 wedding cars pre Covid and needed to reschedule 3 times with Aishling, she was brilliant and very helpful all along, when our big day arrived Karl arrived... read more to collect myself and groomsmen and we had great craic in the BMW M5, an absolute gent to deal with, the 2 Mercedes were great to have for bridal party, from start to end we can't fault these guys, would highly recommend and wish them every success in the future, cheers Alan & Laura

Alan Hughes


5 November 2021

We hired 2 cars for our wedding on New Years Eve and the level of service was next to none! both cars arrived to my house with plenty of time... read more to spare, both drivers (who's names I failed to get) were an absolute pleasure also! I would highly recommend this service to all future brides and grooms. You will not be disappointed!

Louise Walsh


7 January 2019

Thanks to U2R1 cars who chauffeured us in style on Our Wedding Day thanks to Ashling for all her help. The boys on the day were so nice and such... read more a pleasure to deal with they made our day so much fun everyone really enjoyed the fun friendly atmosphere in the cars it made us all at ease from the min they collected us to the min they dropped us to the hotel nothing was a problem they couldn't have done more for us and nothing was a problem . The cars were exactly what we wanted and they were absolutely done to perfection ribbon flowers number plates champagne we really appreciate all the amazing treatment ye gave us on the day. Everything was to perfection thanks so much

Mary Ryan


7 December 2017

outstanding services, very accommodating and I would highly recommend. Karl is fantastic and great Craic we had such a laugh!!! thanks for everything guys.

Orla Burke


9 August 2022

We hired the Regent for our wedding on 14th July 2017. Beautiful car, we were thrilled with it. Matt, our driver was exceptional and went over and beyond his duties... read more on the day from taking photographs in the morning to fixing my wedding dress before I walked up the aisle. Outstanding service! Ashling was a pleasure to deal with and always put us at ease in the lead up to the big day. Cannot recommend U2R1 Wedding Cars highly enough. Teresa & Diarmuid

Teresa Kelly


18 August 2017

We hired the damlier landaulette for our wedding on the 30th June 2017. It was a beautiful car. Very comfy to travel in on the bouncy roads from kilkelly... read more to kiltimagh. I don't remember the drivers name, the day went by so fast and it is all a bit of a blur. He was fab though. Very chatty, and good at his job. Thank you so much to Ashling who answered numerous emails from me on the lead up to the day. Would highly recommend U2R1 for your big day. Melanie and Martin.

Melanie Bartley


9 July 2017

Well all we can say is thank everyone at U2R1 wedding cars for making our day so special. sorry it has taken us so long to write this. ... read more The team are so professional we had 3 cars for the day and they arrived at the time they said. it was first class from when they arrived at the houses to when they arrived with us at the hotel. from myself and my wife Maria we want to thank you all from the bottom of our hearts. we would highly recommend anyone who is getting married give Ashling, and the team a call. Thank you all again. Oliver and Maria Golden

Oliver Golden


19 October 2019

We were so pleased with the service from start to finish with U2R1. Ashling was very helpful and efficient when booking and confirming and our driver Eamon was absolutely lovely!... read more He was so accommodating and relaxed he put us both at ease. Our guests were very impressed with our blue and ivory Regent, it was very comfortable and so much fun to be driven in! Thank you U2R1 and especially Eamon for making our wedding day that much more special.

Katie Duffy


23 September 2019

We hired a regent car and driver for our wedding in April '19! The car was beautiful and it was a lovely day so we had the roof down for... read more most of the journeys which was amazing. We had a bottle of bubbly waiting for us after the church! The driver as brilliant. He was so friendly. He really went the extra mile and was taking pictures on his own phone which he sent onto us after! All in all it was a great experience and although it is a bit expensive (all cars like these from all companies are) it was definitely worth it! We enjoyed it thoroughly and would definitely recommend the company! ☺

Aisling Barry


15 May 2019

We had U2R1 for our wedding car last Friday and I can't recommend them highly enough. Our driver Karl was absolutely lovey and went above and beyond. I would highly... read more recommend them for any wedding car you need. They have a great selection of cars to choose from and are so easy to deal with. 10/10⭐️⭐️⭐️⭐️⭐️

Denise Ní Dhuibhgheannaín


23 December 2021

I 100% recommend U2R1 car service. We had our wedding on the 28th of December. Prior to the wedding dealing with you was so easy very friendly and helpful. But... read more on the day is where your service was exceptional, my driver Matt was unbelievable he went over and beyond for us, he helped put the ribbon the bridesmaids car. Then I had forgotten to get my flower girl the donut I promised her for walking up the aisle. So while we were in the church Matt went around the town looking for a donut for our Flower girl to give her after the ceremony. All I can say is what a gentleman. He didn't have to but he did. He made one flower girl a very happy girl. Thank You ❤️❤️

Laura Egan


11 January 2020

I would like to say a big thank you to the 2 lads matt & pat who was our chauffeurs to our wedding on the 1st of may 2022 these lads were... read more outstanding from a wee race on the way out to the church & from helping me into & out of the car & for making sure my dress didnt get any muck on it for the photos by supplying a wee carpet for me! 20 out of 10 the best out there a big thank yous mr & mrs dwyer

Lisa Dwyer


23 May 2022

Great craic to and from the church and to reception. Would highly recommend Paul!!

Amie Haynes


28 October 2017

We used U2R1 for our wedding car a few weeks ago and I couldn't recommend them enough. Ashling was very kind and helpful in the build up to our wedding.... read more Karl our driver on the day was amazing, he was very friendly and extremely helpful, from putting ribbons on my brother in laws car to fixing the train on my dress and my veil before I walked up the aisle. We had the Jaguar MKii, the car was beautiful, everyone has commented on it, it was also spotlessly clean.

Breda Gearty


20 May 2021

We used U2R1 for our wedding and they were so helpful, the drivers really couldn't do enough to help on the day, There cars are top class along with the... read more service,I would definitely recommend U2R1 to anyone getting married.

Ciaran Walsh


30 September 2018

Just a note to say thanks to the team at U2R1 Wedding Cars. We would highly recommend them for wedding cars. We went with the White Jaguar for our wedding... read more car...Top class. Our driver was lovely and had a great sense of humour. We had 2 white BMW's for bridal party. All drivers couldnt do enough for us on the day. Thanks so much Ashling nd all the Team. Maura & Adrian Tarmey.

Maura Tarmey


4 November 2016

Just want to say a huge thank you to you guys for giving us the best experience ever. Our driver went above and beyond he was even working on his... read more own wedding anniversary 20th August so we will always remember him when we have our Anniversary's Absolutely fantastic service would highly recommend ⭐️⭐️⭐️⭐️⭐️

Ciara Mullen


30 September 2022

Just wanted to say a huge thank you to U2R1 wedding cars especially Karl for all your help on our big day June 9th last. We loved the car and... read more your professionalism but more than that you did so much more for us on the day! Calming the nerves before we left the house and helping to fix dresses before I walked up the aisle! You did your job so well and helped so much contribute to the relaxed atmosphere of the day. Thanks so much! Eoin & Laura

Laura Egan


16 June 2018

We choose U2R1 as our wedding car service provider for our Wedding on 13th May 2023. From the very first communication with Ashling right up until the wedding day itself... read more was seamless. Our wedding car of choice was the Ivory Regent and it was beautifully presented with personalised number plates and also a bottle of champagne. It was fully kitted out with the essentials too like a mirror, wipes, tissues, water - all were lovely additions on the day. Our driver John was an absolute gentleman. He went above and beyond for us on the day, he even fixed the train on my dress as I was walking up the aisle. The journey from the church to the venue was really enjoyable and it was lovely to spend that time together as Newlyweds ahead of the reception. John was also very attentive when we arrived to the reception ahead of our photographs, he helped fix my veil which had come loose during the church and also drove us to each area for our photographs. A couple of days after the wedding I received a lovely email from Ashling with photos enclosed that John had taken on the day, one of which was us coming out of the church under a Hurl arch, and only for John capturing this photo and sharing it with us we wouldn't have a photo of this special moment. I would highly recommend U2R1 to any future bride and groom!

Lorna Kelly


5 June 2023

Thank you to all the team at u2r1 Wedding Cars! You were all so lovely to deal with and the cars looked fantastic in the photos on our wedding day!... read more Our driver was lovely and very helpful throughout the day! Highly recommended!! Thanks again! X

Sinead Mcveigh


15 December 2015

The team at U2R1 Wedding Cars were superb to deal with and everything ran like clockwork. Driver and car arrived well before allotted time and looked great on the day.... read more Would have no hesitation in recommending them for anyone planning their big day and looking for transportation. Thanks again!

Ronan Lynskey


10 June 2015

Excellent service from start to finish. Very prompt responses to any emails, car was perfect and our driver, Matt, went above and beyond to help us with umbrellas and keeping... read more my dress clean and dry in the rain which was much appreciated! Would highly recommend the company to anyone.

Ailish Farrell


5 January 2020

Couldn't be more grateful to these lovely guys. We had the beautiful white Mercedes and it was just such a smooth ride to Enniscrone. Our driver was fantastic helped with... read more my dress had an umbrella at the ready and he was always there to help. 100% recommend this company for any wedding car. Ashling is amazing to deal with and once again couldn't be more grateful. Thank you so much to u all x

Sinead Hughes


23 July 2022

Terrific! We were delighted we chose U2R1 Wedding Cars. Very punctual and lovely to deal with.

Gráinne Hannon


23 August 2015
Book a Wedding Car
for Your Special Day Today!