How To Book Your Wedding Car...
Classic, Vintage or Modern... We have a car for every wedding theme!
Wedding Car Booking Process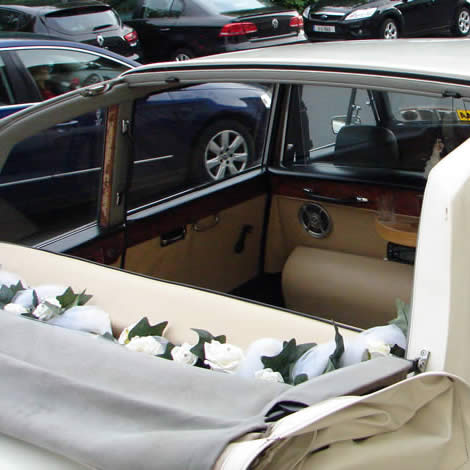 Booking a wedding car with us is very easy. Just follow the 3 steps below.
Step 1.
Browse through the website and select the cars that you like. You may want to short-list them. 
Step 2.
Go to the CHECK AVAILABILITY page and fill our Enquiry Form, or you can call us directly. After we receive the form, we will email or phone you back with the car availability and prices. You may want to make an appointment to view the cars, before making the final selection.
Step 3.
Go to BOOKING CONFIRMATION page, fill out all the required details and pay the BOOKING FEE when prompted.  You don't need to have a PayPal account to make a payment via PayPal. After you make the payment, you will receive an email with a confirmation that a booking fee was paid and your car(s) are now reserved. You will be able to pay the balance in advance, or on the day, directly to the driver.
There are no hidden extras, you will pay exactly the price you were quoted.
Remember a booking is not confirmed until the Booking Fee has been paid and you have received a Booking Fee Payment Confirmation email.
What our customers are saying about us...
We were so pleased with the service from start to finish with U2R1. Ashling was very helpful and efficient when booking and confirming and our driver Eamon was absolutely lovely!... read more He was so accommodating and relaxed he put us both at ease. Our guests were very impressed with our blue and ivory Regent, it was very comfortable and so much fun to be driven in! Thank you U2R1 and especially Eamon for making our wedding day that much more special.

Katie Duffy


23 September 2019

We used U2R1 for our wedding car a few weeks ago and I couldn't recommend them enough. Ashling was very kind and helpful in the build up to our wedding.... read more Karl our driver on the day was amazing, he was very friendly and extremely helpful, from putting ribbons on my brother in laws car to fixing the train on my dress and my veil before I walked up the aisle. We had the Jaguar MKii, the car was beautiful, everyone has commented on it, it was also spotlessly clean.

Breda Gearty


20 May 2021

Fantastic service. Our driver was outstanding. He was friendly, punctual and so helpful (he even helped clean my heels following the pictures) we would highly recommend U2R1. thanks so much, Kelley... read more and John Mullins.

Kelley Folan


9 April 2019

Outstanding service from these guys, we hired 4 cars for our New Year's Eve wedding and we were not disappointed. Cars were immaculate and all the drivers were a pleasure... read more to deal with! Very patient and friendly. They accommodated every request we had and the bottle of champers was a very generous touch. Highly recommend , thank you U2R1 xx

Ash Donaldson


8 January 2019

Couldn't be more grateful to these lovely guys. We had the beautiful white Mercedes and it was just such a smooth ride to Enniscrone. Our driver was fantastic helped with... read more my dress had an umbrella at the ready and he was always there to help. 100% recommend this company for any wedding car. Ashling is amazing to deal with and once again couldn't be more grateful. Thank you so much to u all x

Sinead Hughes


23 July 2022

U2R1 are absolutely amazing ✨ Ashling & Karl are fantastic in every way from the booking, to the quality of service on the day. Our drive from the church to... read more the hotel was one of the favourite parts of the day. Champagne and lots of laughs! My bouquet experienced a first class journey in the front seat with Karl, an umbrella was produced for the shower of rain we got - I simply did not have to worry about a thing! The bridesmaids were treated like royalty in the accompanying jaguar. Thank you Karl for taking them first shots of me entering the church and going up the aisle, and for making our day so special. 5 star is simply only a figure; your standard of service and experience massively exceeds that. ✨

Kelly Louise Pryce


19 May 2022

One of my favourite parts of our wedding day was the journey to the church with my dad and then our journey as husband and wife from Ballaghaderreen all the... read more way to Ballina! Thank you for the most memorable experience❤️

Ciara Naughton


15 September 2022

I 100% recommend U2R1 car service. We had our wedding on the 28th of December. Prior to the wedding dealing with you was so easy very friendly and helpful. But... read more on the day is where your service was exceptional, my driver Matt was unbelievable he went over and beyond for us, he helped put the ribbon the bridesmaids car. Then I had forgotten to get my flower girl the donut I promised her for walking up the aisle. So while we were in the church Matt went around the town looking for a donut for our Flower girl to give her after the ceremony. All I can say is what a gentleman. He didn't have to but he did. He made one flower girl a very happy girl. Thank You ❤️❤️

Laura Egan


11 January 2020

We hired the damlier landaulette for our wedding on the 30th June 2017. It was a beautiful car. Very comfy to travel in on the bouncy roads from kilkelly... read more to kiltimagh. I don't remember the drivers name, the day went by so fast and it is all a bit of a blur. He was fab though. Very chatty, and good at his job. Thank you so much to Ashling who answered numerous emails from me on the lead up to the day. Would highly recommend U2R1 for your big day. Melanie and Martin.

Melanie Bartley


9 July 2017

What can i say about this company.... ABSOLUTELY INCREDIBLE. W picked the 1965 mkii Jaguar for our wedding day in March 2019, and we were not disappointed; what a gorgeous... read more vintage car, but that was only the start, the service was second to none. Our driver was, Karl, and he was the perfect gentleman but also such good fun. We laughed all the way to the reception and Karl laughed with us. I could not recommend this company highly enough. Thanks, Ann and Gary.

Ann Brett


5 April 2019

We want to say thank you to Ashling and the team at u2r1 cars for the fantastic service they provided on our wedding day 20th July last. They were an... read more absolute pleasure to deal with. The drivers were so professional and patient to deal with. We highly recommend U2r1.

Teresa Mahon


1 September 2019

We hired the Regent for our wedding on 14th July 2017. Beautiful car, we were thrilled with it. Matt, our driver was exceptional and went over and beyond his duties... read more on the day from taking photographs in the morning to fixing my wedding dress before I walked up the aisle. Outstanding service! Ashling was a pleasure to deal with and always put us at ease in the lead up to the big day. Cannot recommend U2R1 Wedding Cars highly enough. Teresa & Diarmuid

Teresa Kelly


18 August 2017

What can we say about this service, it was absolutely fantastic. Karl was so helpful and such a good laugh on the day, he would put any bride at ease.... read more He really added to our day, the Jaguar was gorgeous and we really couldn't recommend this company enough. Ashling was always so efficient on the emails, they make a great team. Thanks again for everything. Xx

Joan Shaughnessy


28 September 2021

Absolutely delighted with the service we received from U2R1 wedding cars. Our driver Matt was a true gent! He made us feel so at ease, and had great patience and... read more professionalism. Highly recommend them for your special day. We went with the Mercedes CLS and it was immaculate! Thanks again!

Marylouise Guy


3 January 2022

Absolutely perfect..punctual. .pleasent. .and a joy to deal with..very professional service

Adrian Gilmartin


13 February 2016

Just like to say a massive thank you for your professional service on our wedding day. Drivers were 1st class and the cars looked amazing. Would highly recommend U2r1 for... read more anyone's big day.

David Kilcoyne


6 January 2017

We used u2r1 for our wedding last weekend in Moylough Co Galway and I cannot recommend them highly enough. Our driver Matt was nothing short of legend. From saving one... read more of my bridesmaids dresses at the top of the aisle when the strap broke to cleaning the grass off my Jimmy Choos after the pictures! I highly recommend these guys the cars are fab but the staff are one in a million. Joy and Shane O'Connor

Joy Monaghan


10 May 2018

Huge thank you to U2R1 for their beautiful White Mercedes CLS last weekend for our wedding. Beautiful car for the photos, great interior, lovely bubbly. Special thanks to our friendly... read more and professional driver Matt and to the lovely Ashling for organising everything. Highly recommend this service for your big day.

Cathal Sweeney


6 September 2017

We got married last Week & we loved our car. My mother ordered it as a surprise Matt our driver arrived half an hour before scheduled time & was so... read more good to us on the day. We cannot recommend enough. Well done.

Brenda Uí Allmhuráin


23 March 2018

We had the best experience with U2R1 on our wedding day. The cars are absolutely spotless and looked amazing outside the church and venue. Martin drove the bridesmaids and looked... read more after them so well, they were delighted. Karl was the best driver we could have asked for, from the minute he got to the house to the minute he dropped us off to the venue, he relaxed me, had the craic and his attention to detail with looking after my dress and flowers was second to none. He is also quite the photographer and took some gorgeous photos to share with us. I couldn't recommend U2R1 enough.

Erika Walsh


28 December 2021

Excellent service from start to finish. Very prompt responses to any emails, car was perfect and our driver, Matt, went above and beyond to help us with umbrellas and keeping... read more my dress clean and dry in the rain which was much appreciated! Would highly recommend the company to anyone.

Ailish Farrell


5 January 2020

We hired 2 cars for our wedding on New Years Eve and the level of service was next to none! both cars arrived to my house with plenty of time... read more to spare, both drivers (who's names I failed to get) were an absolute pleasure also! I would highly recommend this service to all future brides and grooms. You will not be disappointed!

Louise Walsh


7 January 2019

We had a fantastic car and driver - Matt. Couldn't have been more professional and patient with us as we got our photos done. Thanks so much!

Ashling Neary


30 October 2018

I highly recommend this company! We had the pleasure of dealing with U2R1 for our New Year's Eve wedding. Aisling was a real star and such a lady to deal... read more with! We had two cars, a regent and the Mercedes limosene. They were fabulous and really added the wow factor to our pictures. The drivers were so professional and were real gents! Nothing was too much for them. Thanks again guys x Laura & Michael Roughneen

Laura Roughneen


7 January 2020

Their professionalism is next to none absolutely outstanding. Their drivers are a blast really made our experience so much more enjoyable. We laughed so much the morning of our wedding... read more this was primarily due to our hilarious drivers. Just such an amazing service can't complement them enough truly!

Karen Ni Ceallaigh


18 March 2019

Just want to say a huge thanks to u2r1 wedding cars, we got married on 15th March and had 2 white Mercedes cars. We can't recommend them enough, they provide... read more a fantastic service and were so nice to deal with from the first day we met Karl. Our drivers on the day Matt and Quintin were great, they arrived early and were so easy going and good fun too. They were so helpful all day - at the church, during pictures and also with my dad who had a stroke, they couldn't do enough for us. It was so lovely to have such friendly and genuine drivers on the day and the cars were amazing, immaculately clean and so comfortable too. Would highly recommend this company to anyone. Thanks again, Marie & Aidan

Marie Collevy


30 April 2019

We hired the jaguar xf for our wedding on Saturday and we were very impressed with it stunning car. Our driver Matt was an absolute gentleman, he was extremely friendly... read more and we had a good laugh with him too he is a credit to your company. We would highly recommend you to anyone looking for a wedding car thank you so much. Lee&Louise

Lee Chambers


21 August 2017

The team at U2R1 Wedding Cars were fantastic to deal with. Very punctual and everything ran like clockwork. Our driver was very professional and couldnt have done any more for... read more us on the day! We are delighted to have chosen U2R1! We would have no hestitation in recommending to anyone. Thanks Michelle & Gerard Gibbons.

Michelle Dixon Gibbons


21 September 2015

Thank you to all the team at u2r1 Wedding Cars! You were all so lovely to deal with and the cars looked fantastic in the photos on our wedding day!... read more Our driver was lovely and very helpful throughout the day! Highly recommended!! Thanks again! X

Sinead Mcveigh


15 December 2015

Loved working with U2R1 cars! We got a vintage regent for our wedding. The car was super clean, came on time, and our driver was such a nice guy. Our... read more flower girls were over the moon to ride in such cool car :). Ashling was also so lovely to work with and super helpful with all of our questions. Thank you again!

Becca Murphy


17 September 2019
We Have Been Voted The Best Wedding Transport Provider
In Ireland For The Last 5 Years